During the Nvidia keynote at CES 2016, CEO and co-founder Jen-Hsun Huang introduced a new computer for autonomous vehicles called the Drive PX2. Following last year's Drive CX, the PX2 touts processing power equivalent to 150 MacBook Pros, according to Huang. The lunchbox-sized, water-cooled computer features 12 CPU cores that support eight teraflops and 24 "deep learning" tera operations per second. As a result, the PX2 can reportedly process data in real time from 12 video cameras, radar, lidar and additional sensors to enhance the self-driving car experience.
"The PX 2 features two next-gen Tegra processors, as well as a Pascal-based GPU," TechCrunch explains. The system can "recognize up to 2,800 images per second using the AlexNet neural network-based deep learning algorithm." Nvidia calls the Drive PX2 a supercomputer.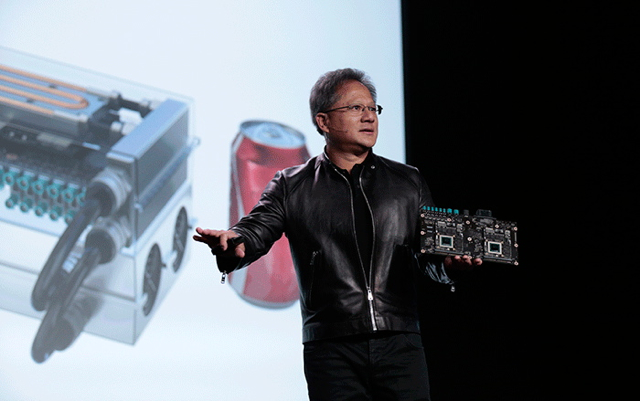 "Nvidia believes that a properly-designed self driving car needs to have a ton of processing power so that it can handle all the sensors, controls, and learning it needs to be fully autonomous (instead of, say, being dependent on connectivity to the cloud)," reports The Verge.
"Nvidia has created a reference platform called the 'Nvidia Drivenet' and it is already testing its own self-driving cars. It has nine inception layers so that it can train itself to 'perceive things out in the world.'"
Nvidia has teamed with Audi to test its new systems, while Volvo plans to be the first to ship 100 test vehicles with the PX2. Additional partners include BMW, Daimler and Ford.
Additional information, images and video regarding the PX2 are available on the Nvidia blog.
Related:
Carmakers Set to Grab Spotlight at International CES, The New York Times, 1/5/16
Topics:
AlexNet
,
Algorithm
,
Audi
,
Autonomous Vehicle
,
BMW
,
CES 2016
,
Cloud
,
Computer
,
CPU Cores
,
CTA
,
Daimler
,
Deep Learning
,
Drive CX
,
Drive PX2
,
Ford
,
GPU
,
Jen-Hsun Huang
,
Las Vegas
,
Lidar
,
MacBook
,
Neural Network
,
Nvidia
,
Nvidia Drivenet
,
Pascal
,
Radar
,
Self-Driving Car
,
Sensor
,
Supercomputer
,
Tegra
,
Volvo