Deploying 5G spectrum through rural America has national security and social equity implications, say legislators struggling to keep up with rapid technology changes as the government allocates $65 billion to broadband through 2021's Infrastructure Investment and Jobs Act. Although 5G is here when it comes to cell phone communication in dense areas, there are unmet mobile needs that range from farming to emergency response and the build-out is big business. The FCC's 3.45-3.55 GHz mobile spectrum auction in Q4 2021 raised $22.5 billion for the Treasury Department. That follows $80.9 billion raised in a C-band auction early last year.
C-band sits between 3.4 and 4.2 GHz. Both auctions impact 5G as demand explodes for all manner of wireless communications. In a Thursday afternoon Q&A session at CES, Qualcomm CEO Cristiano Amon said what's unique about 5G is it's "designed to deliver universal last-mile access, not only for phones, but for everything from computers to VR and AR devices, connected cars and connected everything."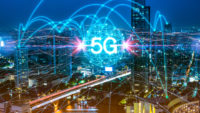 That includes John Deere farm equipment collecting data on things like how much fertilizer has been applied to which acres "and eventually to individual plants," John Deere VP of production and precision agriculture Deanna Kovar explained at a Thursday morning CES panel on 5G, calling farming "outdoor manufacturing."
Speaking on the same panel, Samsung senior vice president of public policy John Godfrey explained 5G is "is not any one particular spectrum." It can use lower frequencies that transmit less data but across a wider geographical range, or the high-frequency "millimeter wave," with huge channels that don't travel far.
Mid-band, from about 1-6 GHz, "is the Goldilocks spectrum, not too high, not too low, and the U.S. has been a little bit behind other countries in making mid-band available for wireless. But it's happening now," Godfrey said.
5G networks have lower latency and more capacity over a broader range than 4G. As carriers make the switch, the government wants smaller players to have opportunities in hardware as well as service. Helping to make that possible is the growing trend toward open radio access networks (RANs).
Historically, the controller at the base of a cell tower and the antenna on top have been manufactured by the same company, Godfrey said, explaining the move toward standardized open interfaces (open RAN) could allow for mixed vendors, and also a separate software layer.
"Base stations are becoming more like a computer server, where software controls and defines the radio signal," Godfrey said. Third-party software can help secure the hardware, "which is of interest to Congress, in terms of national security," said Asad Ramzanali, legislative director for Representative Anna Eshoo (D-California), whose district includes Silicon Valley.
Eshoo, a lead sponsor on the Secure Equipment Act that became law in November, sounded warnings a decade ago on Chinese companies including Huawei and ZTE, resulting in the FCC blacklisting them (and others) last March.
Emily Hebein, legislative assistant to Representative Bob Latta (R-Ohio) said another problem is "massive amounts of waste, fraud and abuse" when it comes to the government's allocation of broadband, citing a December FCC/OIG report. Hebein called on the the FCC to "release their broadband map so we can actually pinpoint areas that are not served, or underserved, and send money and support to those areas to close the digital divide."
In addition to supportive emoji from the audience, Hebein's comment earned a "plus one" from Ramzanali, expressing disbelief that no such map has been distributed, prompting the moderator — CTA regulatory affairs vice president J. David Grossman — to quip "We've got bipartisan support."
For more on CES 2022:
CES Hashtag — #CES2022
CES Twitter Handle — @CES
CES Facebook Page — facebook.com/CES
Topics:
4G
,
5G
,
Anna Eshoo
,
Asad Ramzanali
,
Bob Latta
,
Broadband
,
C-Band
,
CES 2022
,
Congress
,
Cristiano Amon
,
CTA
,
David Grossman
,
Deanna Kovar
,
Emily Hebein
,
FCC
,
Huawei
,
Infrastructure Investment and Jobs Act
,
John Deere
,
John Godfrey
,
Mobile
,
National Security
,
Qualcomm
,
Samsung
,
Secure Equipment Act
,
Silicon Valley
,
Treasury Department
,
Wireless
,
ZTE