Qualcomm became the first mobile company to open CES Monday night, taking over the prized pre-show keynote spot, previously reserved for Microsoft. The move is symbolic of a new focus on mobile and the company's efforts to show consumers that its chips power their favorite portable electronics and help make the "Internet of everything" movement possible.
The significance of becoming only the third person to kick off CES was not lost on Qualcomm CEO Paul Jacobs, who began the technical side of his talk by focusing on Snapdragon-powered Windows 8 tablets and smartphones, before Microsoft CEO Steve Ballmer joined him onstage. It made for a classy, torch-passing moment that helped liven up the presentation's start.
Following in the footsteps of other processor and mobile chip manufactures like Intel and NVIDIA, Qualcomm used the rest of the keynote to ramp up its marketing machine. Jacobs introduced the company's latest Snapdragon processor, addressed concerns about looming bandwidth limitations, touted connected cars and interactive TV technology, emphasized the company's focus on healthcare and spoke about Qualcomm Halo, an inductive charging system for electric vehicles.
Unfortunately, the presentation had some lowlights as well, leading several media outlets, and countless Twitter users, to negatively respond. Some of these hiccups felt like bad preparation, such as actress Alice Eve's inability to follow the teleprompter, while others felt like bad script writing, like Big Bird's inclusion, which was exciting but the jokes fell flat in the context of the presentation.
Jacobs closed the presentation by bringing out Maroon 5 (or Maroon 3, as the band was missing two members) to play a three-song set. The band seemed to energize the crowd and gloss over some of the keynote's blemishes, at least for the live audience. Those that watched the online stream, however, were subjected to a video of the trio playing sans-sound before being dubbed over with a Dido track, not exactly the most inspiring way to broadcast the end your first opening keynote.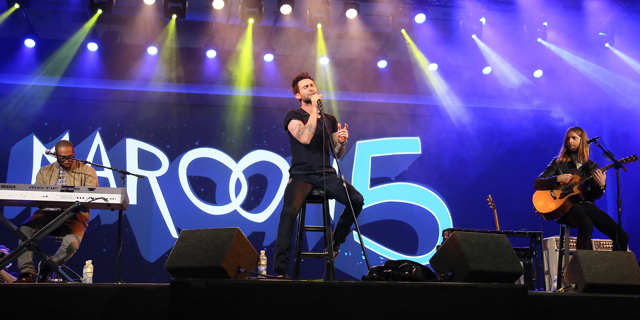 Despite some setbacks, however, perhaps Qualcomm succeeded in accomplishing its goal. The Internet and show floor are still buzzing about the keynote three days into the show despite the myriad of other major announcements. It's important to remember too, that despite its efforts to raise its public profile, the company sells chipsets to manufacturers, not consumers. So, while positive end-user reaction can help demand, a negative response is unlikely to dissuade companies from including a fast, energy efficient processor.