LG has confirmed it will launch new Google TV offerings at CES next week, including 42-, 57-, 50-, 55- and 60-inch models from the upcoming GA6400 series, and 47- and 55-inch Cinema Screen panels from the new GA7900 series. Features include: Magic Qwerty Remote, natural language recognition via a built-in microphone, and built-in Google search functions. An updated Home Dashboard offers convenient access to content from HBO Go, YouTube and other apps.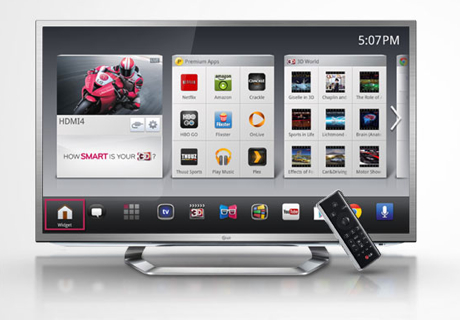 "LG Google TV aims to redefine the user experience," suggests the press release. "The new Home Dashboard offers varied types of 'cards' that act as folders to display apps and other content. The new 'My Interest' Card can even display useful information including real-time weather and customizable news."
"Other features include the OnLive gaming platform app, a home dashboard to display other apps and content, LG's PrimeTime Quick Guide for browsing TV shows or movies, and a full browser," reports Engadget. "There's no word yet about pricing or availability."
The LG Smart TV with Google TV offers wireless connectivity so users can pair smartphones and tablets with their TV via Wi-Fi.
"The embedded dual core CPU enables easy menu navigation, fast Internet browsing and video streaming," claims the release. "The additional processor power allows the TruPicture XD Engine to process images more quickly and precisely, resulting in richer colors, deeper contrast and greater overall picture clarity."