The Consumer Electronics Association (CEA) announced Tuesday that CE revenues for 2014 are projected to reach a new record of $208 billion in the U.S., an increase of 2.4 percent over 2013. According to the latest "Consumer Electronics Sales and Forecast" report, smartphones are expected to continue leading the charge shipping 152 million units, up from 138 million in 2013. The report, published twice a year, also predicts increased sales of UHD displays and tablet PCs.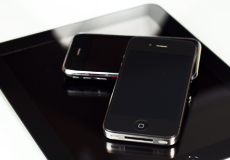 "Total TV set and display sales are projected at $21.3 billion, up 2 percent over 2013," explains Broadcasting & Cable. "More than $1 billion worth of Ultra HD displays are expected to ship in 2014. Tablet sales are expected to hit 89.3 million in unit sales, up from 77.4 million in 2013."
"We are at the forefront of a momentous wave of innovation," said CEA President Gary Shapiro at CES this week. "The incredible growth that emerging product categories such as Ultra HDTV, wearable electronics and 3D printers will experience this year underscores the significant role new technologies play in the total consumer electronics story."
As we previously reported, global tech sales, which fell short of expectations in 2013, are projected to further decline this year.
"Smartphone and tablet sales have eaten into spending on other products, said Steve Koenig, director of industry analysis at the Consumer Electronics Association," reports San Jose Mercury News. "But with prices of both types of gadgets starting to come down, overall spending growth on them is expected to slow markedly this year, placing a big drag on the entire consumer electronics market."
"Sales of consumer electronics products came in at an estimated $1.07 trillion worldwide in 2013, according to research from the CEA and GfK, a German market research firm," the article notes. "That was a record amount that represented 3 percent growth from the prior year and reversed a decline in sales in 2012. But it fell shy of the 4 percent growth that CEA and GfK forecast for 2013 last January."
Topics:
2014
,
3D
,
4K
,
Association
,
Broadcasting
,
Cable
,
CEA
,
CES
,
Consumer
,
Electronics
,
Forecast
,
GfK
,
Global
,
HD
,
Innovation
,
Koenig
,
Las Vegas
,
Mobile
,
PC
,
Phone
,
Predict
,
Print
,
Printer
,
Printing
,
Project
,
Record
,
Report
,
Research
,
Revenue
,
Sales
,
Set
,
Shapiro
,
Ship
,
Shipment
,
Show
,
Smartphone
,
Statistic
,
Tablet
,
Television
,
Trend
,
TV
,
UHD
,
Ultra
,
Ultra HD
,
Unit
,
Wearable