Dozens of iPhone cases were on display at CES this year, but one was a clear standout. The Sensus Touch Sensitive Case by Canopy "brings touch technology to the back and right side of the case, allowing you to interact with your phone in a new way," explains Wired. Thus, the screen remains unencumbered by the navigating hand as users enjoy the full screen to read or play games.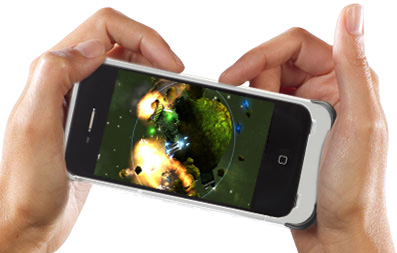 "The current models of Sensus work with iPhone 4/4S and iPhone 5," notes the product site. "iPad Mini and iPod Touch (5th gen) versions are also in the works. An iPad Retina model is also under consideration."
Wired calls the experience "almost magical," adding that "it's particularly useful for games. And it supports multitouch, allowing you to use all 10 fingers." Users can browse the Internet without having to swipe a finger across the screen.

Side controls also include a photo application that controls focus, LED light and white balance.
The Sensus Touch Sensitive Case will be out this summer for between $59 and $99. The post includes a 1-minute video demo.