British Sky Broadcasting Group (BSkyB), the largest pay TV broadcaster in the UK and Ireland, is making an additional $400,000 investment in Jaunt, a Silicon Valley company developing 360-degree virtual reality cinema tech. The British broadcaster invested $350,000 in Jaunt last December, hoping to get one step ahead in the future of television. Jaunt's technology, which uses Oculus Rift VR headsets, could be rolled out commercially as early as three years from now.
BSkyB has been leading the innovation in broadcasting because of its "connected TV" strategy. For example, the broadcasting company has launched several premium services, such as Sky Go and Now TV, which took advantage of television's convergence with the Internet.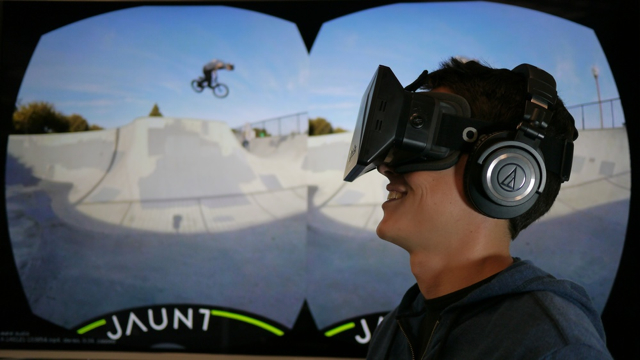 Sky Go, which launched in 2006, allows users to watch live and on demand content from desktops, mobile devices, and the Xbox 360. Now TV is a new streaming service that gives viewers access to movies, sports, and TV entertainment via the Now TV set-top box.
"BSkyB has been a driver in innovation throughout its history, whether it has been in the move from analog to digital, the launch of PVRs or the push into 'triple-play' services of [telephony, broadband and television]," said Numis Securities analyst Paul Richards."[BSkyB is] very happy to dip their toe into the water into new technology startups to see if they can find the next big thing."
The London-based broadcaster has also invested in several other American companies in an effort to "future-proof its business," according to The Wall Street Journal. The venture capital fund Luminari Capital, streaming device maker Roku, and digital TV platform 1 Mainstream have all recently received investments from BSkyB.
Topics:
British Sky Broadcasting Group
,
Broadcasting
,
BSkyB
,
Cinema
,
Connected TV
,
Desktops
,
Facebook
,
Headsets
,
Investment
,
Ireland
,
Jaunt
,
Luminari Capital
,
Mobile Devices
,
Movies
,
Now TV
,
Oculus Rift
,
On Demand
,
Paul Richards
,
Pay TV
,
Roku
,
Silicon Valley
,
Sky Go
,
Smart TV
,
Sports
,
STB
,
Streaming
,
Television
,
TV
,
U.S.
,
UK
,
Video
,
Virtual Reality
,
VR
,
Xbox 360