IDC reported that 100+ million wearables — including smartwatches, fitness trackers and AR glasses — shipped in Q1, a record-breaking number, especially in what tends to be a slow period. Q2 this year has also seen a 34.4 percent increase in sales year-over-year. The research firm revealed that Apple leads the sector, with a market share of 28.8 percent, followed by Samsung at 11.3 percent, Xiaomi at 9.7 percent and Huawei at 8.2 percent. After that, the next player is India's boAt, which has a market share of 2.9 percent.
Ars Technica reports that, according to IDC research director for the global wearables market Ramon Llamas, "larger companies have certainly drawn attention to the worldwide wearables market, yet it is the smaller companies fueling growth." BoAt, for example, focuses on the Indian market and has experienced triple-digit growth.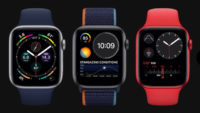 These smaller companies posted 55.5 percent year-over-year growth in the "others" category, which includes such devices as digitally connected rings, audio glasses, and wearable patches. Although wearables are now "mostly dominated by wrist fitness trackers," analysts expect that "additional wearable types may break through."
It predicts, however, that "if the way devices from Apple, Samsung, and Google work is any indication, many wearables are likely to treat the smartphone as a mobile nerve center for a plethora of connected devices."
CNET reports IDC added that, in addition to boAt, another thriving small company is Oura, which "makes a fitness-tracking ring popular with major sports teams and enthusiasts." IDC analyst for mobile device trackers Jitesh Ubrani noted that new form factors such as "wearable patches, rings and even audio glasses are starting to differentiate themselves from the typical watches, bands and headphones by offering tech that is hidden yet functional."
MacRumors reports that, regarding Apple's position in the wearables market, IDC said that its shipments "continued to grow year-on-year in the first quarter of 2021, but the company lost overall market share to smaller rivals." More specifically, Apple sold five million more wearables in Q1 2021 but lost 3.5 percent overall market share.
"Apple started 2021 the same way it ended 2020: as the clear leader in the worldwide wearables market," it notes. "Appetite for its smartwatches remained strong with the less expensive SE and Series 3 gaining further traction in the market while its earwear — inclusive of AirPods and Beats — showed sequential declines after reaching record levels in 4Q20." Apple's wearable business is "now the size of a Fortune 120 company."
Related:
Smaller Companies Fuel Growth in Worldwide Wearables Market in 1Q21, Says IDC, Press Release, 5/27/21