Rumblings are surfacing about the impact to Meta Platforms advertising on Facebook and Instagram due to increased costs resulting from the new user privacy policy introduced by Apple last summer. Meta expects to take a hit of as much as $10 billion to this year's revenue as a result of the change, which requires users to grant permission to apps to track their activity for advertising purposes. Meta's market value dropped by roughly $300 billion in the wake of that forecast. In light of Google's discussion this month of implementing privacy changes of its own, it remains to be seen whether the changes are triggering a digital advertising transition or crash.
Meta has been trying to demonstrate for advertisers that "Facebook and Instagram are driving more sales than its analytics show," The Wall Street Journal writes.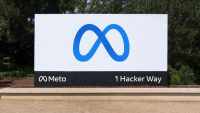 The company also is "developing new technology it hopes will give marketers nearly as much information about ad performance as they had before Apple's changes" and is asking users to "opt in" to device tracking for adverting.
"But data from app analytics provider Flurry shows that only 18 percent of U.S. users are choosing to do so across all apps," WSJ reports.
"Some analysts are optimistic that Meta will contain the damage and that its business could begin to rebound in the second half of 2022," WSJ says, noting that Meta claims it has "more than 10 million advertisers." To propel results, Meta is adding more e-commerce features within its social media apps so that transactions can be kept within its own ecosystem.
Meta's huge investment in the metaverse — $10 billion in 2021 — is an effort at more control over its future, with advertising contained within a world of its creation rather than beholden to third-party device-makers.
Meta has not been alone in criticizing Apple's approach. In a New York Times article, Google Android division vice president Anthony Chavez referred to Apple's "blunt approach," calling it "ineffective." But WSJ indicates Apple's moves have benefitted Alphabet by sending disgruntled Meta advertisers over to Google Search.
"Google pays billions of dollars to Apple annually to be the default search engine on iPhones," WSJ writes, paraphrasing a comment attributed to Meta CFO David Wehner.
In Meta's favor, the company is financially stable enough to provide margin for recalibration. It had revenue of more than $112 billion for 2021, net income of  $40.3 billion, and more than $58 billion in cash (or cash equivalents). That doesn't mean it's not in for a white-knuckle ride, with WSJ suggesting that "Apple's change could be the most disruptive innovation Meta ever faces."