Facing a decline in download sales, Apple plans to launch a competitor to Spotify and other music streaming services. The announcement will likely be made at next week's Worldwide Developers Conference. In 2003, the iTunes Music Store revolutionized how consumers buy music. While Apple currently sells about 80-85 percent of global music downloads, music consumption has changed, and the company only has a small fraction of the streaming business. Meanwhile, Spotify accounts for 86 percent of on-demand music streaming in the United States.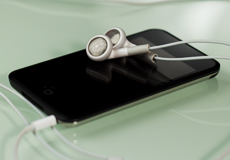 "While it is late to the game, Apple can aggressively push its hundreds of millions of iTunes customers — most with credit cards already registered with the company — to embrace a subscription model on the same devices where they listen to downloaded songs and albums," reports The Wall Street Journal.
According to individuals familiar with Apple's plans, the company is going to charge $10 per month for users to stream music.
"Unlike Spotify, which has an ad-supported service as well subscription, Apple will make only a handful of songs available for free listening," notes WSJ. "Apple also plans to augment its free, ad-supported Internet radio service with channels programmed and hosted by human DJs."
Apple is reportedly in talks with notable performers such as Drake, Pharrell Williams and French DJ David Guetta to serve as guest DJs. The New York Post reports that the Drake deal is worth a rumored $19 million.
While Apple has been securing licensing deals with music companies, it reportedly has yet to sign agreements with the three biggest names — Universal Music Group, Sony Music Entertainment and Warner Music Group. However, deals are expected soon.
Related:
That's Business, Man: Why Jay Z's Tidal is a Complete Disaster, Bloomberg, 5/28/15
Topics:
Advertising
,
Albums
,
Apple
,
Apps
,
Artists
,
Bands
,
David Guetta
,
Distribution
,
DJ
,
Downloads
,
Drake
,
Internet Radio
,
iTunes
,
Jay-Z
,
Licensing
,
Music
,
Pharrell Williams
,
Record Labels
,
Sales
,
Songs
,
Sony Music Entertainment
,
Spotify
,
Streaming
,
Subscription
,
Tidal
,
Tracks
,
Universal Music Group
,
Warner Music Group
,
WWDC