On October 5, the Apple Watch Hermès, priced between $1,000 and $1,500, will go on sale in Apple and Hermès stores in 14 countries including the U.S., China, France and Switzerland. The new watch is Apple's first partnership with a luxury brand, and also the first time that Apple has permitted another brand's components — in this case, signature watchbands, clasps and fonts — on one of its products. The Apple Watch Hermès was the most expensive new item at Apple's recent new product introduction.
The Wall Street Journal quotes Hermès artistic director Pierre-Alexis Dumas: "We are a new tradition and an age-old tradition, and we meet at the center of the arch."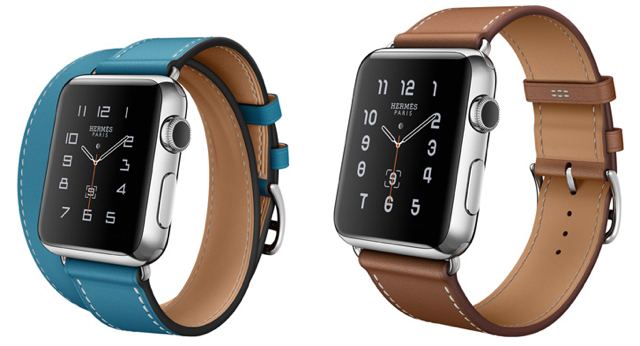 Despite this deep integration with one of Europe's most enduring luxurious brands, Apple design chief Jonathan Ive "resists the notion that Apple is becoming exclusive," says WSJ, which notes the $349 rubber-bracelet version accounts for the majority of Apple Watch sales at the moment.
In fact, the Apple Watch Hermès is not the most expensive watch from either company; Hermès sells watches at twice the price and Apple offers a gold-encased Edition model for $17,000.
Ive and Dumas began their collaboration before Apple had announced its first watch. WSJ notes that Apple brought other luxury brand names on board to help with the conception of the watch, specifically designer Marc Newsom and executives from Burberry Group and Yves St. Laurent.
For the Apple watch, Hermès adapted three of its signature leather watch bands: the classic bracelet, the "Double Tour" which wraps around the wrist twice, and a cuff, fastened with Hermès's silver buckle that resembles a stirrup. Like all Hermès products, the bands are made in France, but the watches themselves are assembled in China. Ive and Dumas say they are "open to future collaborations."