Apple plans to focus on a new business in original TV shows and movies, say sources. The content would be available to subscribers of Apple Music, the company's $10/month streaming music service, which continues to be an underdog to Spotify. In the wake of slowing iPhone and iPad sales, Apple has been casting about for a new source of revenue; recently, it has been in discussions with Hollywood producers to buy the rights to scripted TV programs and is trying to hire studio/network marketers to promote the content.
The Wall Street Journal reports that, "in addition to TV, Apple … is considering offering original movies, though those plans are more preliminary."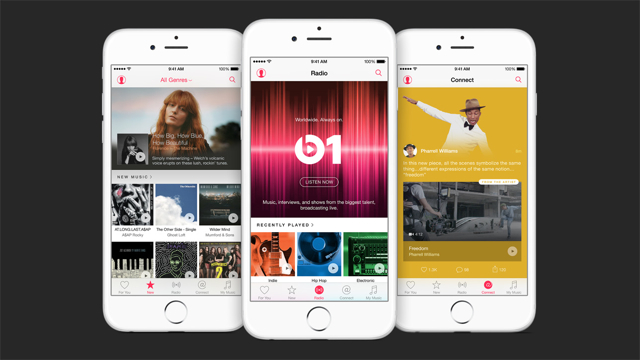 The company, which hopes to unveil new TV content by the end of this year, apparently doesn't plan to compete with Netflix or Amazon Prime Video, with a budget below the "hundreds of millions or even billions" that those outlets spend. Rather, the strategy is to "escalate the arms race between Apple Music and Spotify," by differentiating Apple Music's offerings.
Despite its limited ambitions, says WSJ, "the entry of the world's most valuable company into original television and films could be a transformative moment for Hollywood and mark a significant turn in strategy for Apple as it starts to become more of a media company, rather than just a distributor of other companies' media."
Apple Music currently offers a few "documentary-style segments on musicians" and has also bought the rights to a 30-minute version of "Carpool Karaoke," which is a segment on CBS's "The Late Late Show with James Corden." Also in the hopper is "a quasi-biographical series about Dr. Dre," which will debut later this year.
With regard to scripted content it is considering buying, Apple is "still working out details of its business strategy" but has already enticed producers with the promise that it will share data on the number and "some demographics" of the shows' viewers, something that Netflix does not do.
Apple's move towards original content is the latest effort to enter the content business, including failed past efforts to offer a "skinny bundle" of networks over the Internet and talks about merging with Time Warner. Apple Music revenue rose 22 percent in the 2016 quarter ending September 24, but, at 20 million subscribers, still only has half of Spotify's 40 million paying subscribers.
Related:
Jimmy Iovine Addresses Apple Music Expansion Reports, The Hollywood Reporter, 1/14/17
Topics:
Amazon Prime
,
Apple
,
Apple Music
,
Carpool Karaoke
,
CBS
,
Distribution
,
Dr. Dre
,
Hollywood
,
Internet
,
iPad
,
iPhone
,
Jimmy Iovine
,
Marketing
,
Mobile
,
Movie
,
Music
,
Netflix
,
Original Content
,
Scripted Series
,
Skinny Bundle
,
Spotify
,
Streaming
,
Subscription
,
The Late Late Show with James Corden
,
Time Warner
,
TV Show
,
Video