Apple has announced new 14- and 16-inch iterations of its MacBook Pro laptops, featuring Apple's next-generation silicon. The M2 Pro and M2 Max chips turn the MacBook Pro into a portable workstation, able to tackle demanding tasks like effects rendering and color grading. Apple is promising up to 22 hours of battery life, the most ever in a Mac. The smaller model starts at $1,999, while entry level for the 16-inch is $2,499. Pre-orders began last week and delivery starts tomorrow. Apple is also releasing an updated Mac mini with M2 ($599) or M2 Pro ($1,299) chips.
The new Apple silicon for MacBook Pros is "a game changer, empowering pros to push the limits of their workflows while on the go and do things they never thought possible on a laptop," Apple senior VP worldwide marketing Greg Joswiak says in the company's announcement, which touts performance gains "across a wide range of disciplines, from art to science to app development."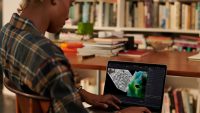 Digital Trends reports "these chips offer a decent (if not earth-shattering) performance improvement." Compared to the M1 Pro, Apple's claims of the M2 Pro speeding by 40 percent Adobe Photoshop rendering, with a 30 percent improvement in DaVinci Resolve color grading and Cinema 4D effects rendering with the M2 Max, are "good to see, but not the next-generation gains we will likely see when the M3 series of chips appear," per Digital Trends.
The outlet goes on to say that prior to Apple's announcement, "there were rumors that the M2 Pro and M2 Max chips expected in the new laptops would be made with a three-nanometer process," but "in the end, that information proved to be incorrect, and the chips are made using a slightly less cutting-edge 5-nanometer process."
The M2 Pro features a 10- or 12-core CPU and next-generation GPU with up to 19 cores and a neural engine that is 40 percent faster, "speeding up machine learning tasks like video analysis and image processing," according to Apple, which says the media engine "tears through the most popular video codecs, dramatically accelerating video playback and encoding while using very little power."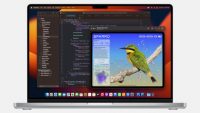 The MacBook Pro with M2 Pro comes with a 10- or 12-core CPU and 16- or 19-core GPU. Memory is configured at 16GB or 32GB. The MacBook Pro with M2 Max comes with a 12-core CPU, and GPU of either 30- or 38-cores.
"M2 Max has a more powerful media engine than M2 Pro, with twice the ProRes acceleration to dramatically speed up media playback and transcoding," Apple says, noting up to 96GB of unified memory and 400GB/s of unified memory bandwidth — twice that of M2 Pro — pushing the high-end of laptop graphics memory "to enable intensive graphics workloads, such as creating scenes with extreme 3D geometry and textures, or merging massive photographic panoramas."
Apple is offering three models of the Mac mini. The company "no longer sells an Intel version of the Mac mini, which means the Mac Pro is the last computer that can be configured with an Intel processor," CNBC reports. The launches follow an October warning by Apple' CFO Luca Maestri that Mac sales were expected to decline for the full-year 2022, which CNBC says "may be in part because Apple didn't ship these computers in time for the holiday shopping season."