San Francisco-based startup Fyusion released a new version of its Fyuse app this week that allows users to record 3D "surround view" photospheres. Users press record and move their phone for a few seconds. Fyuse then renders the images on the device and offers the result for sharing on its platform. The app, available for iOS and Android, is designed to augment everything from selfies to fashion shows, but may also prove successful as a compelling way to bring user-generated content to mobile VR.
"Fyusion's Fyuse app looks a lot like Vine or another other short-form video sharing app, complete with a stream of recordings, a shortcut for popular posts, hashtags, a profile, the ability to follow other users and a tab to record media," explains GigaOM.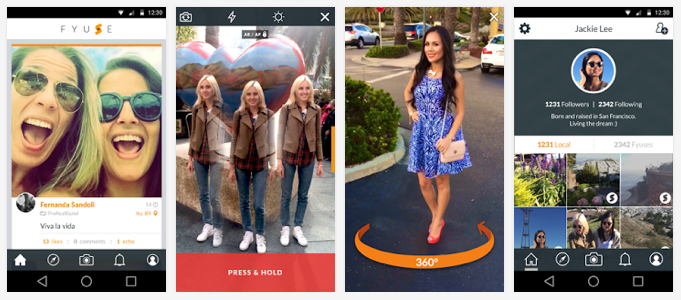 "What's different is the media itself: Fyusion users don't record short video clips like on Vine, or photos like on Instagram, but a unique hybrid that can best be described as 3D photospheres."
The photospheres add depth and provide a sense of presence to recorded scenes. As such, phones are essentially turned into 3D viewers by making use of their sensors when ideally positioned.
"Photography captures a slice of space and time, movies capture time," said Fyusion CEO and co-founder Radu Rusu, explaining that his company wants to capture space, and reinvent photography (not the camera).
The app also presents interesting possibilities regarding UGC in mobile VR. While Samsung's $200 Gear VR has a focus on gaming, for example, there is an effort to make it more of an immersive media consumption platform.
"Some studios and startups have begun to experiment with new types of media for these kinds of platforms, but what's still missing is user-generated content," suggests GigaOM. "Apps like Fyuse could one day fill that void, and Rusu said that his team has had conversations with a number of companies working on VR, including Magic Leap."
Topics:
3D
,
Android
,
App
,
Fyuse
,
Fyusion
,
Gaming
,
Gear VR
,
Hashtag
,
Instagram
,
iOS
,
Magic Leap
,
Mobile
,
Mobile VR
,
Photo
,
Photospheres
,
Radu Rusu
,
Samsung
,
San Francisco
,
Sensor
,
Sharing
,
Smartphone
,
Social Media
,
Surround View
,
Twitter
,
UGC
,
Video
,
Vine
,
Virtual Reality