Essential Products, the smartphone company founded by Andy Rubin, the creator of Google's Android mobile software, has amassed $300 million from several investors, including China's Tencent Holdings and Amazon's Alexa Fund. The company, which plans to compete with Apple and Samsung in the smartphone market, also stated that Best Buy and Amazon will be its first partners for distributing the new $699 titanium-encased Essential phone. What Essential did not reveal was the date the phone will launch.
The Wall Street Journal quotes Essential president Niccolo De Masi, repeating what Rubin said a few weeks ago. "We're a few weeks away," he said. "I will give you an exact date in a week." The Essential phone will launch at about the same time Samsung unveils its premium Galaxy Note 8 phone and Apple rolls out three new phones, including the 10th anniversary iPhone.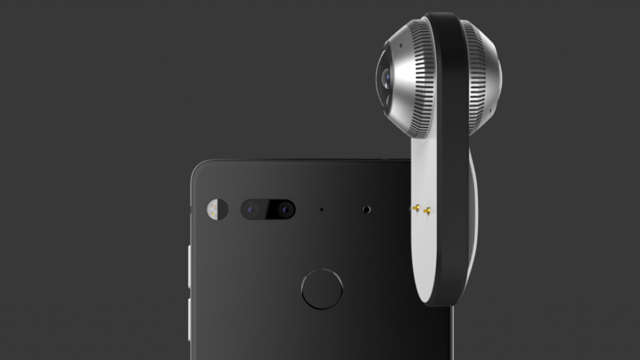 The Essential phone "comes with a special port that the company hopes will attract the development of a wide range of accessories, to go with its own 360-degree camera," and also "plans a device called Home that will control household smart devices."
The company will initially not focus on mass market sales, "to take advantage of the company's small scale to innovate faster than larger rivals." De Masi points out that the "phone's titanium-ceramic shell … wouldn't be possible to manufacture in iPhone-size quantities."
"If we are able to sell low single digit millions [in the first year] that's very successful for a startup," he said. In the U.S. and Canada, Sprint and Telus, respectively, are the only wireless companies to carry it. An unlocked version, for use on any network, will be available at Best Buy, and Amazon and Essentials websites, and "international carrier relationships would be announced later this year."
Rubin is the reason that Essential has garnered so much attention, and, "ultimately, Essential is trying to create the same brand affinity that Apple has created by building a complete hardware-software ecosystem." But analysts aren't enthusiastic about Essential's chances in the market.
"Having a good product isn't enough in a crowded market" said Neil Mawston of Strategy Analytics. "If you don't get buy in from the big three [AT&T, Verizon and T-Mobile], you're stopped before you've even started."
As previously reported by WSJ, Essential also lost out on a deal "set earlier this year to raise $100 million from SoftBank Group, which owns Sprint, but the Japanese investor scrapped the deal partly because of its close relationship with Apple."
Topics:
360-Degree Camera
,
Amazon
,
Android
,
Andy Rubin
,
Apple
,
AT&T
,
Best Buy
,
China
,
Essential
,
Galaxy Note 8
,
Google
,
Home
,
iPhone
,
Mobile
,
Neil Mawston
,
Niccolo de Masi
,
Samsung
,
Smart Home
,
Smartphones
,
SoftBank Group
,
Sprint
,
Strategy Analytics
,
T-Mobile
,
Telus
,
Tencent Holdings
,
The Alexa Fund
,
Verizon