This week, AMD announced a partnership with Cray to build a supercomputer called Frontier, which the two companies predict will become the world's fastest supercomputer, capable of "exascale" performance when it is released in 2021. All told, they expect Frontier to be capable of 1.5 exaflops, performing somewhere around 50 times faster than the top supercomputers out today, and faster than the currently available top 160 supercomputers combined. Frontier will be built at Oak Ridge National Laboratory in Tennessee.
Exascale performance means that "it can complete at least a quintillion floating point computations ("flops") per second, where a flop equals two 15-digit numbers multiplied together — for weather system simulation, subatomic particle modeling, and more," reports VentureBeat.
"Frontier will feature custom CPU and GPU technology from AMD and represents the latest achievement on a long list of technology innovations AMD has contributed to the Department of Energy exascale programs," said SVP and GM of AMD's datacenter and embedded systems group Forrest Norrod.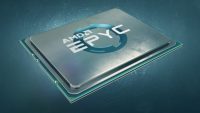 Behind the development of Frontier is what AMD claims to be "the first 'fully optimized' GPU and CPU design for supercomputing," featuring a "custom AMD EPYC processor packing a future Zen core architecture designed for high-performance computing (HPC) and AI workloads, along with a graphics processing unit (GPU) in AMD's Radeon Instinct product lineup of server accelerators," according to VB.
Also as part of the announcement, AMD shared some fascinating numbers. Frontier's network bandwidth, for example, will be 24 million times greater than your average home connection, or, as VB reports, "speedy enough to download 100,000 HD movies in a second."
Additionally, "the system will have a physical footprint spanning 7,300 square feet, the equivalent of two basketball courts. And Frontier's internal cable and wiring would run all the way from Philadelphia to New York City (about 90 miles) if laid out flat end-to-end."