Amazon just debuted new Alexa features including one that simplifies coordinating multiple voice assistants on a single device using Agent Transfers (AT) and Amazon's Universal Device Commands (UDC). Using UDCs, Alexa will be able to act on instructions; for instance, saying "Hey Sonos, turn up the volume" to get results for devices with Sonos Voice Control. ATs enable Alexa to transfer requests it can't unilaterally fulfill — like "Place an order on Uber Eats" — to other assistants that can. Amazon outlined its AT and UDC plans in a white paper on design recommendations for the Voice Interoperability Initiative (VII).
VII participants, including Facebook and Dolby, have agreed to cooperatively develop voice activations that "seamlessly" integrate with others "and build devices that ship with at least one assistant other than their own," TechCrunch reports. Amazon says it plans to enable cloud infrastructure for ATs and UDCs within a year.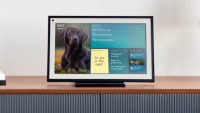 "In a peek at what's to come, Skullcandy and Native Voice, a tech consultancy, worked together to make Alexa and 'Hey, Skullcandy' commands available simultaneously on Skullcandy's Push Active and Grind Series headphones," writes TechCrunch, noting the initiative's limitations, given that Apple and Google have so far declined to join VII.
Alexa is "starting to coexist with other manufacturers' assistants, and Amazon is working to make sure that the most important commands — like 'Stop!' — work no matter what wake word you're using," says The Verge, noting Amazon made the announcements at its Alexa Live 2022 developer event, making it easier to add shopping, support the Matter interoperability standard and simplify setup flow, as well as enabling devices to "understand more about their surroundings."
Amazon debuted some smart home tools, including the Alexa Connect Kit (ACK) SDK for Matter, which provides Matter Wi-Fi support to its existing ACKs. Amazon says it plans to extend its "frustration-free setup" (FFS) technology to devices from third-party retailers beginning with Matter devices.
"Amazon also says that it'll soon launch an API for credentials, allowing customers who opt in to share their network credentials with Alexa and other device makers' apps and services," reports TechCrunch, noting that "customers will be able to select which of their devices and service providers to share network details with and set up those devices without having to enter an SSID or password."
The Verge emphasizes changes to Alexa Routines. "Users can still configure their own routines — 'when I say I'm leaving, make sure the stove is off and turn off all the lights,' that sort of thing — but now developers can build routines into their skills and offer them to users based on their activity."
Amazon "is determined to turn Alexa into a money-maker," Bloomberg reports, noting that "eight years after its debut, Amazon's Alexa ecosystem remains a fraction the size of Apple's and Google's smartphone app empires, which each command audiences of more than a billion users. Amazon is now "inviting developers to advertise their apps on the voice-powered platform" as a way to generate revenue and "to keep developers engaged."
Related:
Everything You Need to Know from Amazon's Alexa Live 2022 Event, Gizmodo, 7/20/22
Here's How Amazon Says Matter Will Make Alexa Better, The Verge, 7/20/22
Topics:
Alexa
,
Alexa Connect Kit
,
Alexa Live
,
Amazon
,
API
,
Apple
,
Cloud
,
Developer
,
Dolby
,
Facebook
,
Google
,
Headphones
,
Matter
,
Password
,
SDK
,
Shopping
,
Skullcandy
,
Sonos Voice Control
,
SSID
,
Uber Eats
,
Voice Assistant
,
Voice Control
,
Wi-Fi