Amazon is strategically moving its Alexa digital voice assistant into a wide range of products, for use in many settings. Among the newly introduced smart products powered by Alexa are earbuds, a ring, eyeglass frames and even a lamp. The idea, said Amazon hardware head Dave Limp, is to allow Alexa to follow the consumer throughout her day, via such smart lifestyle devices. To enable this, Amazon also debuted its own low bandwidth 900MHz network, Amazon Sidewalk, to connect Internet of Things devices.
The New York Times notes that "the on-the-go nature of Amazon's vision for Alexa highlights the limits of the company's reach with the technology" since its competitors, Apple and Google, have their assistants integrated into smartphones. With these new devices, said Creative Strategies analyst Carolina Milanesi, the company is "on a track to continue to penetrate the home, and then take it out of the home."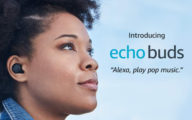 Limp also reported that Alexa has had some work done to her voice, including "adapting her voice to better fit the information she conveys." For 99 cents, the user can have Alexa speak as if she were actor Samuel L. Jackson.
Aware that voice is not always the most efficient way to convey information, Amazon announced a partnership with the Food Network, to "provide step-by-step recipe instructions for on-demand and live cooking classes." (See our earlier report for details.)
Wired describes some of the Alexa-powered products Amazon debuted. Priced at $130, Echo Buds are the company's "first native hands-free Alexa headphones" that offer Bose noise-reduction technology and five hours of battery life per charge. Echo Frames are $180 smart glasses that allow users to talk to Alexa anywhere they go. Echo Loop, at $130, is a smart ring that includes two microphones, a tiny speaker and haptic alerts.
A new Echo speaker has been merged with Echo Plus, so it "gets the same drivers and the 3-inch woofer from the Echo Plus" and is louder and clearer with a "powerful bass response." Echo Studio, at $200, is "tailored for 3D audio," sporting five internal speakers and Dolby Atmos audio support.
It can also connect to 4K Fire TV devices to "provide the soundtrack to whatever you're watching" and offers "higher-fidelity playback that Amazon's new HD Music service begs for." Echo Show 8 has an 8-inch screen, larger than Echo Show 5's. Echo Dot with a clock, at $60, "will switch to displaying the temperature when you ask about the weather." The $30 Echo Glow is a lamp that can glow in any color as well as dim when the user falls asleep and brighten when she wakes up.
The Eero router is "a taller, fatter version of the Eero Pro," for $99 for a single and $249 for a three-pack. The new Stick Up Cam for Ring can be placed indoors and out and comes with night vision and motion detection, at $100; the Indoor Cam, at $60, is an inside-the-house version.
Related:
The Alexa Skills Store Now Has More Than 100,000 Voice Apps, VentureBeat, 9/25/19
Samuel L. Jackson Lends His Voice to Amazon's Alexa, Variety, 9/25/19
Topics:
3D Audio
,
Alexa
,
Amazon
,
Amazon Sidewalk
,
Apple
,
Bose
,
Carolina Milanesi
,
Creative Strategies
,
Dave Limp
,
Dolby Atmos
,
Echo Buds
,
Echo Dot
,
Echo Frames
,
Echo Glow
,
Echo Loop
,
Echo Plus
,
Echo Show 8
,
Echo Studio
,
Eero
,
Eyeglasses
,
Fire TV
,
Food Network
,
Google
,
Indoor Cam
,
Internet
,
IoT
,
Samuel Jackson
,
Smart Speakers
,
Stick Up Cam
,
Virtual Assistants