In 2020, Amazon will open a new branded grocery store in Woodland Hills, California, a suburb in the Los Angeles San Fernando Valley. The company is reportedly planning additional stores in Chicago, Los Angeles and Philadelphia. Amazon stated it will feature traditional checkouts, rather than Amazon Go cashier-less technology. Amazon currently owns Whole Foods, with 500 stores, purchased for $13.2 billion in 2017 and Amazon Go, and offers grocery delivery through Amazon Fresh, its website and Prime Now.
CNET reports that the Woodland Hills store "points to Amazon's growing ambition in the roughly $800 billion U.S. grocery market, where rival Walmart is the leader and Amazon, even after its Whole Foods deal, remains a small player."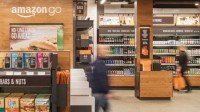 The new Amazon-branded grocery store "could allow the company to continue its fast revenue growth, which typically hovers around 20 percent every quarter … [and] let Amazon move into the more mainstream grocery store business." The Amazon stores would also "offer new competition to Kroger, SuperValu and many other supermarket chains."
But there are risks. Amazon's "other physical store lines, including Amazon Go and Amazon Books, aren't yet huge moneymakers" and the company had to close down its mall kiosks that sold Amazon devices. The grocery business offers "razor-thin margins," and Amazon would have to spend years building it out, with the hope that people will switch their grocery shopping habits.
An Amazon spokesperson said the new stores will not compete with Whole Foods, which opened 17 locations this year, with more planned. Amazon also ended its $14.99 monthly fee for Amazon Fresh grocery delivery, undercutting Walmart's $12.95 per month Delivery Unlimited introduced in September.
Engadget reports that Amazon has listed positions for the Woodland Hills location, including "two grocery associates who'll replenish stock and handle points of sale, a food service associate who'll work food counters and a team lead." It added that, in addition to Los Angeles, Chicago and Philadelphia, Amazon is considering opening new stores in "the New York area, New Jersey and Connecticut."
Amazon has not yet revealed the name of the store "or what the item selection and pricing will look like," although it will reportedly offer prepared foods and "mainstream groceries such as soda and Oreos."