Amazon continues to expand into the entertainment realm with its delivery of movies and TV via Amazon Prime, the launch of Amazon Studios, its recent acquisition of video game developer Double Helix, and now, the possibility of a streaming music service that would likely be bundled into its Prime delivery option. Amazon has been hiring executives with digital music experience in recent years, and has reportedly been in talks with major music labels for the past few months.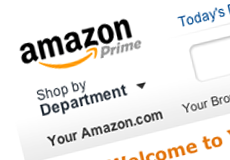 The company has brought a number of people with music experience on board, including former Sony exec Michael Paull, former Rhapsody licensing guru Adam Parness, and Drew Denbo, who handled business development at Rhapsody and MOG.
"Amazon already discussed increasing the price of its Prime TV and movie service by as much as $40 a year," notes TechnologyTell. "That wouldn't make much sense unless it had something else significant to offer users."
"One label source reports that Amazon isn't close to getting a deal done, because its executives are asking for a substantial discount on the pricing the labels have given to other services, like Spotify, Rhapsody and Beats," reports Re/code.
"While the company is thought to be spending more than $1 billion a year on video content for Prime users, the industry consensus is that streaming usage is low in large part because many Prime subscribers have no idea they have access to movies like 'The Avengers' and TV shows like 'The Americans.'"
Last month, Amazon acquired Double Helix Games, a gaming studio based in Irvine, California. Double Helix resulted from a 2007 merger between two game developers — The Collective and Shiny Entertainment. This purchase has fueled rumors that Amazon is going to create its own gaming console, to possibly be released in the next few months.
According to VG247, "Amazon will target an affordable price point — we're told below $300 in the U.S. — in a pricing move similar to Amazon's marketing of the Kindle Fire HD against high-end iPad hardware from Apple."
"Amazon Game Studios also has a presence in Irvine, following the launch of its social game development arm back in 2012," adds TechCrunch. "The company has released a now-shuttered game called 'Living Classics,' which retired last October. The company also has a handful of other titles now, but the Double Helix acquisition will bring more high-profile talent and IP to Amazon."
Topics:
Amazon
,
Apple
,
Artist
,
Avengers
,
Beats
,
Bundle
,
California
,
Console
,
Delivery
,
Denbo
,
Developer
,
Double
,
Double Helix
,
Entertainment
,
Film
,
Fire
,
Game
,
Game
,
Gaming
,
Hardware
,
HD
,
Helix
,
IP
,
iPad
,
Irvine
,
Kindle
,
Label
,
License
,
Marketing
,
MOG
,
Movie
,
Music
,
Parness
,
Paull
,
Prime
,
Program
,
Rhapsody
,
Series
,
Shiny
,
Show
,
Song
,
Sony
,
Spotify
,
Stream
,
Streaming
,
Studio
,
Substitute
,
Tablet
,
Television
,
The Collective
,
TV
,
VG247
,
Video