AI tech startup Capsule is debuting a video editor it says can help enterprise teams achieve results "10x faster." "Today, if you work at a large company — in marketing or comms, or maybe even sales or HR — creating even the simplest video can be daunting," Capsule suggests. After querying more than 300 such enterprise teams about their pain points, Capsule focused on three areas of improvement: simplifying motion graphics, adhering to strict brand guidelines, and making the editing process more collaborative among teams across desktop and mobile, where apps are typically "siloed."
The San Francisco-based Capsule is releasing a product that doesn't aim to replace human involvement, merely to enhance it, proclaiming in a blog post that its mission is "to expand the definition of 'video editor' to include every human in a company who has a story to tell," something that would be hard to accomplish without AI.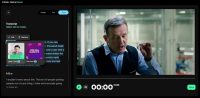 The majority of enterprise firms outsource video production to professionals, "despite the fact that most of us are comfortable writing docs and making slide presentations, or even making videos at home for friends and family."
Capsule intends to change that. Over a three-year development process that drew on "inspiration from business tools like Notion and Google Slides to design a video editing UI that feels approachable," Capsule then "layered in AI to make creating video effortless," powered by a proprietary language called CapsuleScript, the company explains.
With Capsule, "the video editing itself takes place in the browser, eliminating the need for a fast computer," TechCrunch reports, detailing how the technology allows users to "do things like select a block of text from the video's transcript and turn it into a title card or have the AI generate an image based on the text or something else entered into a text prompt field," among other functionalities.
The two-year-old Capsule raised $4.75 million in a funding round earlier this year, using the funds to implement "dozens of new features and performance updates aimed at helping enterprises create video at scale," TechCrunch says, noting users "can now easily add text and motion graphics without formal editing experience," including leaning on AI "to generate components like headlines and images for B-roll."
Currently in the works are collaboration features to enable copywriters, motion designers, video editors, product engineers and marketing teams to seamlessly contribute to a finished video product using Capsule.
"After beta-testing with over 160 companies, including HubSpot, [consumer insights firm] Suzy, and Zapier," Capsule "has already accumulated a waitlist of 10,000 individuals eager to gain access to its video editing solution," writes Robots.net.