At its Adobe MAX show in Los Angeles this week, the company debuted a preview of Photoshop for iPad, stating plans to bring the full version to other tablets. The iPad Photoshop app is based on current code for the desktop version, and, within a few versions, will offer identical tools as the desktop version, including layers, masking and 3D. This move comes after Adobe brought Lightroom to mobile devices; at MAX, the company unveiled facial recognition, improved search and updated sharing tools for Lightroom.
Digital Trends reports that, "while the iPad version of Photoshop will house the same tools, the interface gets a refresh to adapt to the new medium," with smaller toolbars to provide more screen space for editing work and a full-screen version that "will still leave a mini icon available for tool swaps."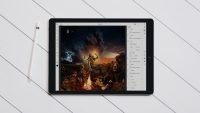 The app, which will be "Apple Pencil friendly," features a touch interface with new controls, including the ability to open the layers panel with a pinch zoom. Adobe's "context aware user interface" will "minimize unnecessary tools and opens toolbars only when that tool is in use."
Users of the iPad version will be able to work with PSD files created on the desktop, and "the program syncs edits between the iPad and a desktop using Creative Cloud." Adobe didn't say when the app would debut.
The desktop version of Photoshop now features "a re-designed approach to Content-Aware Fill that gives editors more control over the final results," although the original Content-Aware Fill will also still be available. Creative Cloud users will be able to automatically install new versions of apps. The Symmetry Painting tool was also officially debuted to mirror "brush strokes along an axis to create symmetrical designs in less time" and also to "be used along multiple axes to create mandala designs." Adobe also added a radial option, and added several app changes "aimed at workflow improvements and user suggestions."
Adobe also revealed new features for Lightroom CC, including AI to recognize faces and "help users find specific images of people." People View will "automatically tag people and appears as a new section in the photo library," and "a new Share tab inside Lightroom CC helps browse and access albums shared to Lightroom's online interface" as well as allowing users "to share to Adobe Portfolio."
With third party partners, Adobe hopes to eventually create an option to send images in for lab printing. Images shared to Lightroom Web can be filtered via iOS and Android, and "Lightroom CC on the desktop is also now compatible with the Apple Photos Migrator to send photos between the two library systems."
Adobe also showed "a handful of small changes" to Lightroom Classic, including a boost in tethered shooting speed for Canon cameras (with the same for Nikon users to come), a simplified creation for creating panoramic HDR merge, with merge options including an HDR panorama tool.
Related:
Adobe Launches New AR and Drawing Tools, TechCrunch, 10/15/18
At its Max conference in Los Angeles, Adobe today announced a number of new products in its Creative Cloud suite. Among those is Project Aero, a new tool that allows for building new AR experiences, and Project Gemini for painting and drawing on the iPad. The 'Project' moniker is Adobe's way of signifying that these are still early-stage products and not quite ready for prime time yet.
Premiere Rush CC Is Adobe's New All-in-One Video Editing Tool for Desktop and Mobile, TechCrunch, 10/15/18
Earlier this year, Adobe previewed Project Rush, a new multi-platform video editing tool. Today, at its Max conference, the company announced that Project Rush is now Premiere Rush CC and an official part of the Creative Cloud suite. The idea behind Rush is pretty straightforward. It's meant to provide video creators with a modern all-in-one video editing solution that allows them to quickly edit a video and publish it on platforms like YouTube and other social networks. 
Adobe XD Now Lets You Prototype Voice Apps, TechCrunch, 10/15/18
Adobe XD, the company's platform for designing and prototyping user interfaces and experiences, is adding support for a different kind of application to its lineup: voice apps. Those could be applications that are purely voice-based — maybe for Alexa or Google Home — or mobile apps that also take voice input. The voice experience is powered by Sayspring, which Adobe acquired earlier this year. 
Adobe Brings Full Photoshop to iPad, VentureBeat, 10/15/18
When the new Photoshop CC for iPad becomes available in 2019, it'll bring most, if not all, of the desktop version's features to mobile. That includes support for PSD files, a "reimagined" user experience aligned more closely with Photoshop on PC, and a cloud syncing framework that makes project files and brushes accessible across desktop and iPad. 
Topics:
3D
,
Adobe
,
Adobe MAX
,
Adobe Portfolio
,
App
,
Apple Pencil
,
Apple Photos Migrator
,
Artificial Intelligence
,
Canon
,
Context-Aware Fill
,
Creative Cloud
,
Facial Recognition
,
HDR
,
iPad
,
Layers
,
Lightroom
,
Lightroom CC
,
Lightroom Web
,
Masking
,
Mobile
,
Nikon
,
People View
,
Photoshop
,
Symmetry Painting
,
Tablet