Atlanta-based United Parcel Service recently rolled out 100 industrial 3D printers at its hub in Louisville, Kentucky. UPS is testing whether 3D printing centers could impact supply chains and its transportation business — or prove advantageous for a new local production and delivery market. The company is proceeding cautiously; it does not want to see 3D printing cause a similar disruption to how the Internet undercut overnight document deliveries. The project is being run by Atlanta startup CloudDDM with plans to add another 900 printers next year.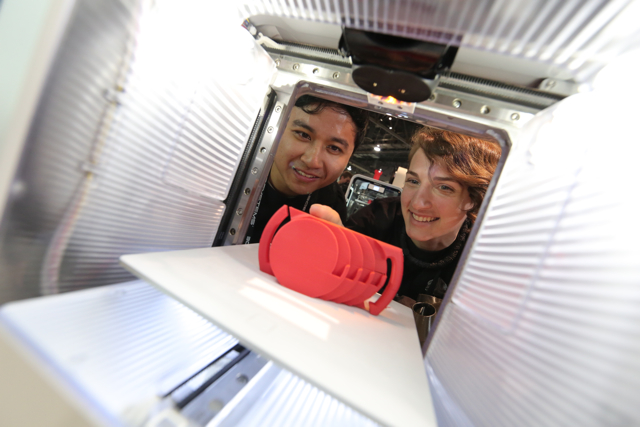 The emerging technology has drawn investments from companies such as General Electric and Whirlpool, but has been hampered in part by slow printing speeds and size constraints.
"Sales in the 3D printing industry have risen about 34 percent annually for the past three years," notes The Wall Street Journal, "and acquisitions in the industry have totaled more than $468 million in the past five years, according to data firm Dealogic."
FedEx, Amazon and Dutch parcel-delivery company TNT Express are among those also looking at the printing business.
"Should we be threatened by it or should we endorse it?" asked Dave Barnes, UPS's chief information officer. "We saw the capability of a logistics company to be challenged on one side but on the other be an enabler."
"Deutsche Post AG's DHL recently looked at all products being shipped from Asia to Europe and concluded that only between 2 percent and 4 percent of those could be 3D printed," explains WSJ. "It also asked employees to hand over objects for replication, and determined that only 10 percent of those objects — including a baby shoe and a foosball table player — could be reproduced with full functionality."
However, some companies are successfully testing 3D printing with UPS for creating parts. Georgia-Pacific is experimenting with 3D-printed mounting brackets for paper towel dispensers, while Whirlpool is experimenting with trays for refrigerators and venting systems for dryers.
UPS turned to its own service when it needed a floor beam support bracket for its Airbus A300 fleet. The part, which is out of production, "helps containers filled with packages easily move on and off the plane," WSJ reports. "CloudDDM printers made the part within hours and walked it across the runway for testing in a UPS plane."
Topics:
3D Printers
,
3D Printing Centers
,
Airbus A300
,
Aircraft
,
Amazon
,
Asia
,
Atlanta
,
CloudDDM
,
Dave Barnes
,
Dealogic
,
Delivery
,
Deutsche Post
,
DHL
,
Europe
,
FedEx
,
General Electric
,
Georgia-Pacific
,
Internet
,
Kentucky
,
KitchenAid
,
Louisville
,
Maytag
,
Production
,
Replication
,
TNT Express
,
Transportation
,
United Parcel Service
,
UPS
,
Whirlpool