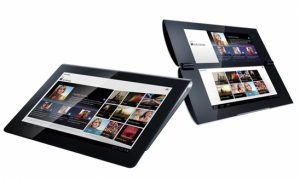 At a Tokyo press event, Sony announced a pair of Android 3.0 tablets — the S1, featuring a 9.4-inch touchscreen display, and the smaller S2, with dual-screen 5.5-inch displays that can can fold like a book. The tablets will connect to Sony's cloud-computing library of movies and music in addition to Sony PlayStation Android-based games and digital books from Sony's Reader store.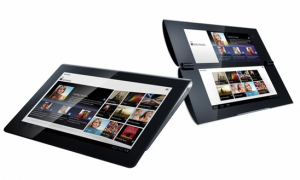 The S1 media tablet features front- and rear-facing cameras and what Engadget describes as "a curved wrap design that resembles a folded magazine." The S1 also features a Tegra 2 SoC, touch panel UI, and integrated infrared for use as a remote control for Sony devices. The second tablet, the dual-screen S2 clamshell, features two 1024 x 480 pixel displays, Tegra 2 SoC, and camera. Engadget reports: "Sony takes advantage of the two screens with a custom book-style UI layout for its e-reader app, split keyboard and messaging displays for email, and split display and game controllers for PS One gaming."
In a video report, IDG reports the S1 and S2 are PlayStation certified, WiFi and 3G/4G compatible, and will support DLNA (enabling users to buy a movie from the online Qriocity store, for example, and stream the content to a TV from the tablet via WiFi).
Sony said the devices will go on sale worldwide by September. The company has yet to announce prices, but according to Engadget: "…sources told us back in February that Sony was considering a $599 MSRP on the S1 while the S2 would likely come in at $699. Still no word on the Windows 7 slider but with the other two leaks official, it's now only a matter of time."
Related Huffington Post article: "Sony Shows Off S1, S2 Honeycomb Tablets With PlayStation Integration" (4/26/11)