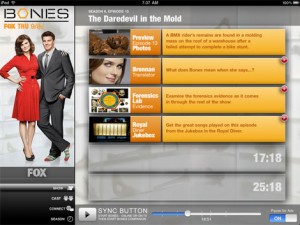 We recently reported on a number of new features and trends regarding media consumption via tablet PCs, especially since an onslaught of new iPad apps have been making headlines. One such potential trend may involve synchronized bonus content and interactive features related to live TV shows.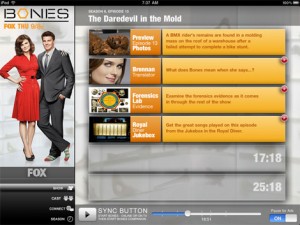 In February, Fox announced the availability of its free app for the series Bones, that enables access to a series of content add-ons while viewing the program live or via Fox.com, Hulu or DVR. Features include social media integration (users can comment with other fans and try to solve cases) and the ability to purchase songs played during the show from iTunes. The Fox launch follows the release of ABC's iPad sync app for the hit drama series Grey's Anatomy.
As content providers, perhaps we should be looking beyond complementary content for tablets, and consider what additional video approaches might leverage this growing platform. According to paidContent: "It's interesting that so far the TV industry is treating tablets more as a sidecar for original programming on TV than a source of original content in its own right, as News Corp.'s new The Daily is trying to do. Or perhaps sometime soon we'll see a video-centric company try to evolve its product on the iPad the way News Corp. wants to do same for the news business."
The paidContent article includes an interesting video promo for the free Grey's Anatomy iPad app that features interactive components such as polls, quizzes, bonus content, and more.